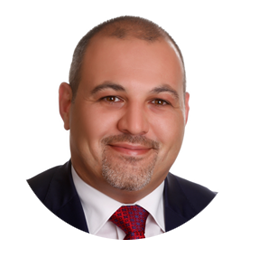 Managing partner
Jordan
T: +962 79 6659747
Experience
Hakam Alqarem is the managing partner of Grant Thornton Jordan, he is responsible for managing and overseeing multiple engagements in various industries. He has more than 20 years of professional experience mostly through the auditing firm he had founded in 2006 "The Standard for Auditing Co. (TSD)" which is specialized in the fields of Auditing, Tax, and Advisory Services, and also through multiple senior positions he had held previously in the private sector; locally and internationally.
In 2017, Hakam was elected as a board member of the Jordanian Association of Certified Public Accountants (JACPA).
Hakam was assigned by the world bank as a Financial Audit Expert on their project with the Jordanian Audit Bureau to provide practical and professional training to the Bureau's auditors on conducting audits in accordance with the International Standards on Auditing (ISA) and The International Standards of Supreme Audit Institutions (ISSAI). As well as helping a number of municipalities who have been affected by Syrian refugee influx in preparing their financial statements in accordance with International Public Sector Accounting Standards (IPSAS).
In addition, Hakam is an authorized sworn expert before Jordanian Courts and a professional trainer in the international standards (ISA, IFRS, IPSAS) and the professional certifications (CPA, CIA, CMA).
Memberships
American Institute of Certified Public Accountants (AICPA)
The Institute of Internal Auditors (IIA)
Jordanian Association of Certified Public Accountants (JACPA)
Association of International Certified Professional Accountants.
Arab Society of Certified Accountants (ASCA).
Certified Forensic Practitioners Institute.
Expertise covers
Audit and Assurance
Accounting and Outsourcing
Advisory
Corporate Tax and VAT
Public Sector
Not for Profit and NGOs
Forensic
Budgeting and Planning
Due Diligence and Business Valuation
Corporate Governance
Mergers and Acquisitions
Corporate restructuring
Qualifications
Certified Public Accountant (CPA), USA 2014
Certified Internal Auditor (CIA)
Jordanian Certified Public Accountant (JCPA), 2006
Chartered Global Management Accountant (CGMA)
Certificate in Sustainable Business Strategy, Harvard Business School
Chartered Certified Financial Consultant
Diploma in IFRS.
Certificate in International Public Sector Accounting Standards (CertIPSAS)
Certificate in International Financial Reporting (CertIFR)
Certified Forensic & Audit Analyst